I was reading this article which was reposted from Reuters, and stating that the U.S. added 175,000 jobs last month. And in following paragraph it mentioned that unemployment ticked 1/10 point higher. One only has to ask a simple question of whether the Fed is helping or hurting our economy.
I am speaking with reference to the QE program that Uncle Ben (Bernanke) has been following for several years now. The other side of the QE coin could point to another potential avenue where unemployment ticks up almost the same amount that the U.S. is adding jobs. All that seems to come out of that side of the coin is that they are short term jobs that opened up and then those that were employed turned around and filed for unemployment again, resetting the time that they could extend their benefits once again. Both are detrimental to our economy IMHO.
The same article also mentions "Still, after a winter in which the economy seemed to be turning a corner, May was the third straight month that payrolls outside the farm sector increased by less than 200,000.". Well we all know that the economy should ramp up a little in the winter, since: a) heating costs go up in the northern parts of the U.S., b) people tend to spend more around the holidays, c) people are likely watching more TV and purchasing even more items that they didn't plan on since it is colder outside.
Here is a nice little chart that we may not like, but it (and the associated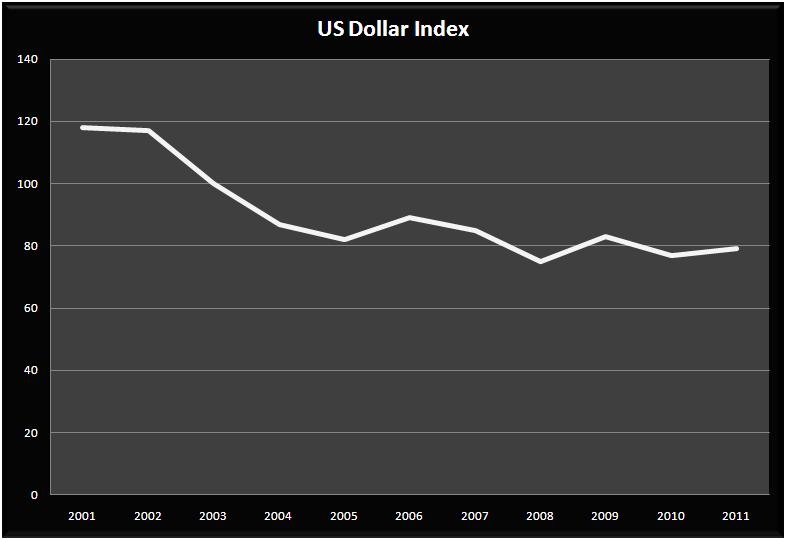 article posted on Seeking Alpha) shows the overall trend of the dollar has gone down significantly since 2000.
My personal opinion is that Uncle Ben does need to start lowering the QE program that he keeps pushing, or he'll single-handidly be causing another housing bubble that is even larger than it was previously. That one may take decades to get over and housing prices to plummet. I don't believe it would be in the best interest to stop the QE program quickly, however lowering it to $65B-$75B/month would give investors and homeowners more comfort in seeing how solid their investments are without all the propping up from the Fed. So my belief is that the Fed is hurting our economy, even if it is with good intentions that I believe Ben Bernanke has.
Final thoughts: Are you helping or hurting our economy by saving for your future? Are you helping or hurting our economy by spending more money than you have in the past on goods and services because you now can after having saved enough?